The BLEAT System wins 2020 Good Design Award Gold
Our BLEAT System Wins Good Design Award Gold Accolade in Australia's International Good Design Award

The winners of Australia's peak international design awards – the highest honour for design and innovation in the country were announced last week, during the 2020 Good Design Week.
The BLEAT System received a prestigious Good Design Award Gold Accolade in the Product Design Commercial and Industrial category in recognition for outstanding design and innovation.
The annual Good Design Awards is Australia's oldest and most prestigious international Awards for design and innovation with a proud history dating back to 1958. The Awards celebrate the best new products and services on the Australian market, excellence in architectural design, engineering, fashion, digital and communication design, design strategy, social impact design and young designers.
More than 55 Good Design Awards Jurors evaluated each entry according to a strict set of design criteria which covers 'good design', 'design innovation' and 'design impact'. Projects recognised with a Good Design Award must demonstrate excellence in good design and convince the Jury they are worthy of recognition at this level.
About The BLEAT System
CSIRO's Data61 has developed the innovative BLEAT system. A range of Bluetooth Low Energy Asset Tracking (BLEAT) Devices that network together to provide the future of safety, tracking and traceability. This creates more visible supply chains and worksites while enhancing human safety.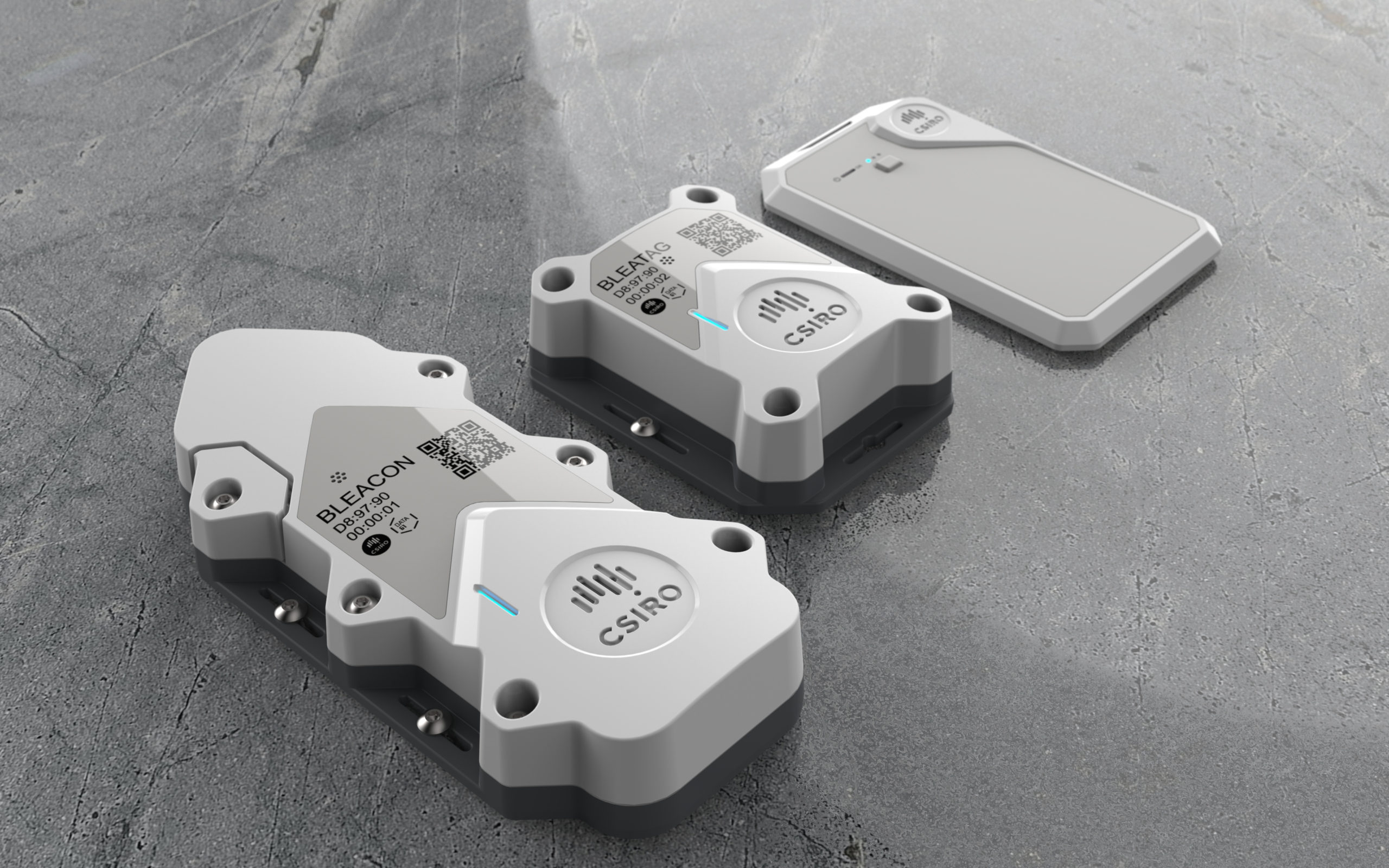 "The BLEAT design process had to balance the challenging functional, performance and user needs requirements of the product in a tough operating environment on site. It had to do so whilst still conveying its radical technology through a new and modern product style language. We are really happy with the design effort and outcomes. Good design process has allowed for the right combinations of weather proof materials, smart User Interface features and functional attachment methods into a range of BLEAT system products that make a real impact on site in terms of both construction performance and more importantly, site safety." – Neil Davidson, Design Innovation Director, Clandestine Design Group.
Designed By: CSIRO and the CLANDESTINE DESIGN GROUP
Commissioned By: CSIRO
Designed In: Australia
The Good Design Awards Jury praised The BLEAT System, commenting: "The three devices are addressing the current need for tracking building materials, machinery and people. The designers have approached the problem with an integrated approach which considers movement of people, things, and connections. Asset and people tracking is a growing industry and the product design has considered several use cases effectively. Consideration of human safety as well as physical goods movement is a well-resolved aspect of this design. "
Dr. Brandon Gien, CEO of Good Design Australia said: "Receiving a Good Design Award is a significant achievement given the very high calibre and record number of entries received in 2020."
"There's no doubt it has been a really tough year for everyone so it's nice to be able to share some good news for a change. The projects represented in this year's Good Design Awards shine a positive light on our creative and innovative capacity as human beings. These inspirational winning projects give me hope and optimism that our design community will continue to innovate, no matter how challenging the world around us is," said Dr. Gien.
"Australia's Good Design Award is more than a symbol of design excellence – it represents the hard work and dedication towards an innovative outcome that will ultimately make our lives better. These projects showcase the shear brilliance of design and the potential it has to improve our world," said Dr. Gien.
The 2020 Good Design Awards attracted a record number of submissions with an astonishing 835 design projects evaluated in this year's international design awards.
About Good Design Australia and Australia's Good Design Awards
Good Design Australia is an international design promotion organisation responsible for managing Australia's annual Good Design Awards and other signature design events. With a proud history that dates back to 1958, Good Design Australia remains committed to promoting the importance of design to business, industry, government and the general public and the critical role it plays in creating a better, safer and more prosperous world.